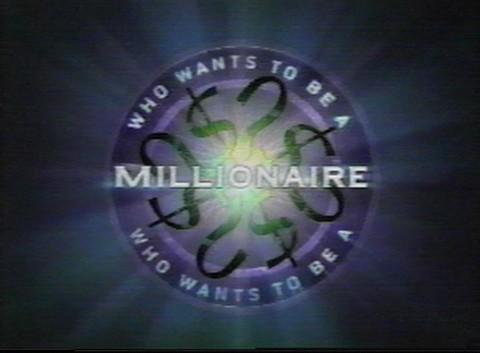 Final Statistics
Let's take a look at the statistics so far during the first week of "Who Wants to be a Millionaire?":
Statistics:

NUMBER OF CONTESTANTS:
11
TOTAL NUMBER OF QUESTIONS ASKED*:
107
TOTAL MONEY AWARDED:
$461,000**
LIFELINES UNUSED:
3
LIFELINE MOST OFTEN USED FIRST:
Ask the Audience (8)
MOST EFFICIENT LIFELINE:
Ask the Audience (7/8)
VICTORS (Million dollar winners):
0
KNOCKOUTS (Games ended by wrong answer):
7
MONEY LOST FROM KNOCKOUTS:
$23,000
BAILOUTS (Games ended voluntarily):
3
HIGHEST LEVEL QUESTION CORRECT:
13 (Doug Van Gundy)
LOWEST LEVEL QUESTION WRONG:
1 (Robby Roseman)
FASTEST QUALIFYING TIME:
3.45 (Doug Szafran)
AVERAGE AMOUNT WON:
$42,900***
* - Qualifying Questions are not counted.
** - Since half of David Honea's $64,000 will be at stake when he returns, it is not counted in this figure.
*** - David Honea's score is not counted in this figure.
Back to the "Who Wants to be a Millionaire?" Fan Page
Back to the Game Show Lair