Now he's sure of it. Ted picks A...
And that is his final answer.



He had a 50-50 shot at it...



Many people miss after a 50:50...



But Ted didn't!!
He wins SIXTY-FOUR THOUSAND DOLLARS!!!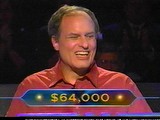 LOOGAROO LAMENTS: Little bit of strategy for future contestants. First, if you think you're going to use the 50:50, DO NOT mention which answer(s) you're debating. Once you say "I think it's B," whether or not it's right, B will be left as a choice. The 50:50 will also endorse the highest-ranked wrong answer if used after an audience poll, or the answer your phone-a-friend gave.
Second, eschew using Lifelines on the $64,000 question. Remember: it's a freebie. You have nothing to lose if you miss. So if you have a hunch, go for it. Save the Lifelines for when there's money at stake. (However, if you're totally stumped on the $64K question, go ahead and get some help.)