"Because the president that appeared on Laugh-In is Richard Nixon, that's my final answer."


Well, no sense in beating around the bush-
John knows it,
Regis knows it,
The audience knows it,
All of America's going to know it now--
JOHN CARPENTER'S
A MILLIONAIRE!!!!!!!!!!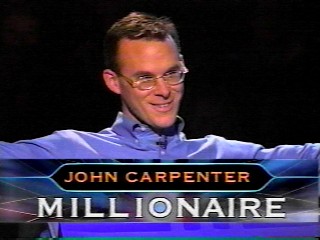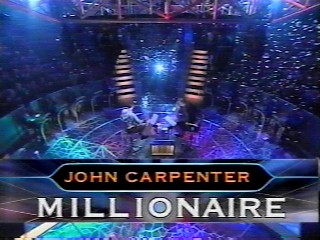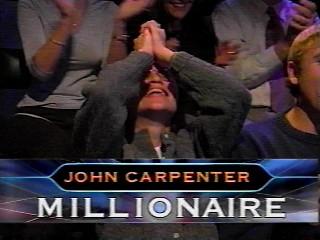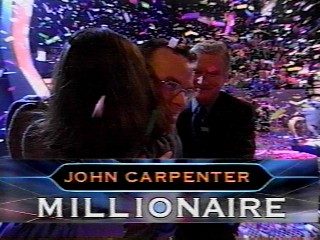 LOOGAROO LAMENTS: This, folks, was the perfect example of someone being lauded one day and lambasted the next. After a few days of celebrating the first million-dollar win by one person in prime time history, people began to deride both him and the questions he was asked. Being one who's lamented about just about everyone's game, I should probably talk about these things.
First, the questions. Yes, they were probably easier than the average stack, but as Regis has reminded us a number of times, it's only easy if you know the right answer. The polio question and the one regarding the Louvre could've been hang-ups. However, this set of 15 lacked one of those "experience" questions, ones that can't be memorized from an almanac or studied in a college class. Also, keep in mind that Executive Producer personally approves the million dollar questions, so obviously he must've thought it was hard enough to stump someone.
Second, the issue of Carpenter himself. True, he was smug from the $64K question on, but he did show some personality before then. Also, his call at the end wasn't a gloat - he was just trying to get his parents in on the festivities, calling them while he was winning rather than after he won. Also, since the episode was only half an hour, any upper-tier joshing could've been edited to squeeze a player in, or he might have even known the clock was ticking, hence he didn't want to waste any time.
In short, John might have been a little brash. The questions might have been a little easy. But he's still a millionaire. And for that, he deserves some kudos.