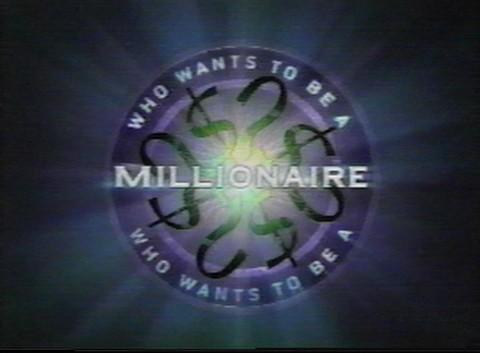 Final Statistics
Well, that's going to do it for the November '99 run of Who Wants to be a Millionaire. Let's take a look at some of the stats of what happened during the 18 nights:
NOVEMBER STATISTICS

CONTESTANTS

TOTAL CONTESTANTS:
39
FEMALE CONTESTANTS:
5

QUESTIONS

TOTAL QUESTIONS ASKED1:
457
MOST QUESTIONS RIGHT:
John Carpenter (15)
LEAST QUESTIONS RIGHT:
Jim Baird (6)
POST-MORTEM ACCURACY2:
5/9 (56%)
FASTEST QUALIFYING TIME:
Jim Baird (2.80)
SOLE QUALIFIERS3:
1

LIFELINES

LIFELINES LEFT UNUSED:
20
LIFELINES USED ON LOWER TIER:
12
LIFELINES MOST OFTEN USED FIRST:
Ask the Audience (24)
50:50 EFFICIENCY4:
13/32 (40%)
AUDIENCE EFFICIENCY:
30/34 (88%)
PHONE EFFICIENCY:
17/29 (59%)
MOST LOPSIDED AUDIENCE RESULT:
96%
PHONE CONVERSATIONS ENDED PREMATURELY:
9

WINNINGS

VICTORS (Million dollar winners):
1
BAILOUTS (Games ended voluntarily):
21
KNOCKOUTS (Games ended by wrong answer):
17
TOTAL MONEY AWARDED:
$3,746,000
AVERAGE AMOUNT WON:
$95,538
MONEY LOST FROM WRONG ANSWERS:
$260,000
1. Qualifying Questions are not counted.
2. This is the success rate of players' guesses after they decide to stop and take the money.
3. This is how many people qualified by being the only one to answer a Qualifying Question correctly.
4. A Lifeline use is deemed successful if and only if A) No further subsequent Lifelines are used on the question, B) The Lifeline endorses the correct answer (in the case of human element Lifelines), and C) The contestant plays the question and answers correctly.
And of course, here are my favorite moments from the November run:
- Mark Megerian's dumbfounded look when he discovers that Santa Fe is higher than the Mile High City.
- John Christensen's reaction to his 50:50 removing both answers that his phone correspondent was debating.
- Joel Winkelsas getting the worst Audience results ever seen, yet still winning the question.
- Winkelsas struggling with his phone correspondent, whose wild guess of Rocky Marciano was worth $64K.
- Rick Grimes tormenting himself on his $125K question.
- Gary Levine rolling his eyes in utter shock after winng $250K.
- John Lamantia dominating his first 12 questions... only to have his 13th question dominate him.
- Toby Moore trying to figure out if Jigglypuff or Frodo was a Pokémon.
- John Carpenter. Need I say more?
- Matt Marcotte's correspondent looking for his piece of Matt's $250K pie.
- Jane Oviatt getting thirsty as Reege explained the rules.
- and finally, Neil Larrimore's $32K and $250K questions. What a way to top off the series.
Well, I hope you enjoyed my look at the November shows. I'll see you soon when I start on the January episodes (in about, oh, 3 years). Thanks for visiting!
Back to the "Who Wants to be a Millionaire?" Fan Page
Back to the Game Show Lair