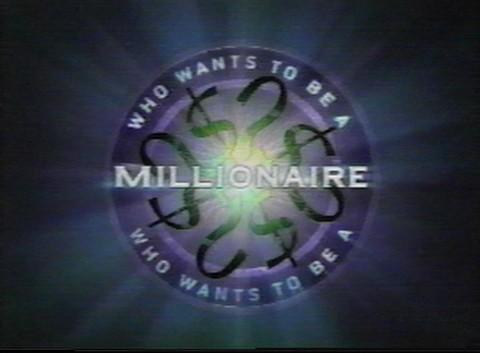 Shawn Borgosz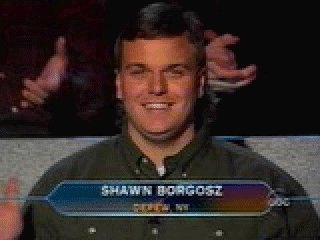 Shawn, a factory worker and volunteer fireman, made it to the hot seat thanks to this question:
QQ37. Put the following Brad Pitt movies in the order they were released, starting with the earliest.

A. Kalifornia
B. Seven Years in Tibet
C. Fight Club
D. Thelma & Louise
Correct Order (drag the mouse over the letters): D-A-B-C
Shawn's winning time: 7.18
Competitors: 3/9
Here goes Shawn on his quest for the million!
For $100:

1. What target did William Tell split in half while it sat on his son's head?





A. Apple
B. Balloon
C. Snowball
D. Cantaloupe

Shawn picks A...

And he's right! $100.
For $200:

2. In 'Miracle on 34th Street", what legendary figure must stand trial in court?





A. Bigfoot
B. Kris Kringle
C. Tooth Fairy
D. Paul Bunyan

Shawn chooses B...

Correct! $200.
For $300:

3. A business man that is in debt is said to be 'in the...' what?





A. Pink
B. Red
C. Blue
D. Black

Shawn selects B...

Right again! $300.
For $500:

4. By definition, what sport do you participate in if you are an 'angler'?





A. Curling
B. Fishing
C. Baseball
D. Cheerleading

Shawn and his father love to do this - it's B, Fishing...

Bingo! $500.
For a guaranteed $1000:

5. How many face cards are there in a standard U.S. deck of 52 cards?





A. 8
B. 10
C. 12
D. 14

Shawn goes with C...

And he's nailed the thousand dollars!

For $2000:

6. What sqaud of TV commando-for-hire would you seek out to find Mr. T?





A. The A-Team
B. The Brady Bunch
C. The Dirty Dozen
D. The Avengers

Shawn likes A...

That's his final answer.

No problem! $2000!
For $4000:

7. Seventeenth-century French monk Dom Pérignon is considered the father of what?





A. Champagne
B. Sparkling water
C. Brie
D. Baguette

Shawn hopes to splurge on a bottle of this if he wins the million - he picks A...

For his final answer.

Absolutely right! $4000!
For $8000:

8. What constellation is known as the Hunter?





A. Orion
B. Andromeda
C. Cassiopeia
D. Draco

Shawn isn't feeling to sure about this one, so he'll give this one to the astronomically-minded audience.

A. Orion - 86%
B. Andromeda - 8%





C. Cassiopeia - 4%
D. Draco - 2%

Another lopsided response from the audience.

That's enough to help Shawn. He'll say A...

As his final answer.

And the audience pulls it off once more! $8000!
For $16,000:

9. What is the pen name of Samuel Langhorne Clemens?





A. Mark Twain
B. Thomas Wolfe
C. Jack London
D. Henry Miller

Shawn is (obviously) not a literary buff, so he'll call Sharon, his high school history teacher. After the fluff, we get this:

Sharon: "Mark Twain."
Shawn: "Thank you, Sharon. Are you positive on that?""
Sharon: "Oh yes, dear."
Shawn: "OK." (Audience laughs) "I would never doubt you."
Sharon: "Good luck, honey."
Shawn: "Thank you." (Hang up with 11 seconds left)






Reege: "Sounds like a very close student-teacher relationship. Dear, honey... a lot going on there. All in front of the new wife, too."

A ringing endorsement for A, and that's what Shawn will take.

That'll be his final answer.

She was right! $16,000!
For a guaranteed $32,000:

10. What legendary jazz vocalist was known as 'Lady Day'?





A. Ella Fitzgerald
B. Mahalia Jackson
C. Billie Holiday
D. Lena Horne

With no idea, Shawn is going to use his 50:50.

A. Ella Fitzgerald
OUT





C. Billie Holiday
OUT

On the logic that he knows she's a jazz singer and isn't as sure about the other, Shawn will pick A...

Which will be his final answer.




It was a 50-50 shot.




An even gamble.




And Shawn's risk is going to...




Cost him money. The answer was C. Billie Holiday. Shawn Borgosz drops back to $1000.

LOOGAROO LAMENTS: A pretty tough question for this level. A person who figured out the mnemonic device would've had it, though. (Don't look at me - I was guessing A, too.)
WINNINGS TO DATE: $3,371,000
Back to the "Who Wants to be a Millionaire?" Fan Page
Back to the Game Show Lair

The following space is blank - don't worry about it.