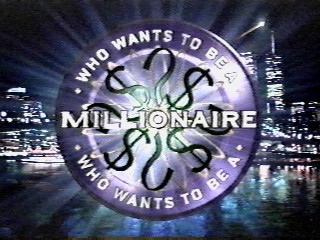 Steven Plotnick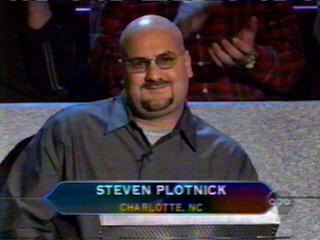 Steven, a bartender, made it into the main game on this question:
Put the following players in the order in which they were inducted into the Pro Football Hall of Fame, from earliest to latest.

A. Y.A. Tittle
B. Joe Greene
C. Mike Singletary
D. Dick Butkus
Correct Order (drag the mouse over the letters): A-D-B-C
Steven's winning time: 5.13
Competitors: 4/8
Let's see if Steven can end Millionaire Bowl with a bang!
For $100:

1. What is the name of the 12-minute intermission between the 2nd and 3rd quarters of a football game?





A. Overtime
B. Halftime
C. Nap time
D. Miller time

Well, in Steven's profession it might be D, but he knows it's B...

And it's the right answer! $100.
For $200:

2. What is it called when a quarterback calls a play change at the line of scrimmage?





A. Audible
B. Hand-off
C. Shotgun
D. Panic

Steven picks A...

Got it! $200.
For $300:

3. During the '60s and the '70s, what team's defensive line was known as the 'Purple People Eaters'?





A. Philadelphia Eagles
B. Dallas Cowboys
C. Minnesota Vikings
D. Detroit Lions
Steven immediately says it's C...

Three in a row! $300.
For $500:

4. What kicker, who shares the NFL record was born with half his kicking foot?





A. Jason Elam
B. Pat Leahy
C. Garo Yepremian
D. Tom Dempsey
Wasn't Garo in the last game?

Anyways, Steven picks C...

It's good for $500!
For a guaranteed $1000:

. What team played in three consecutive Super Bowls during the 1970s?





A. Minnesota Vikings
B. Dallas Cowboys
C. Miami Dolphins
D. Pittsburgh Steelers

Steven selects C...

And he snags the thousand dollars!

For $2000:

6. If a coach makes an instant replay challenge to an official's call and is wrong, what does the coach lose?





A. A down
B. A time-out
C. A substitution
D. Possession

Steven says it's B...

And that's his final answer.

It's the right one! $2000!
For $4000:

. Which of the following athletes has not played in both the NFL and the United States Football League?





A. Herschel Walker
B. Doug Flutie
C. Steve Young
D. Jerry Rice

Steven sides with D...

Yes, that's his final answer.

He's doing fine! $4000!
For $8000:

8. Which of the following sports announcers is not in the Pro Football Hall of Fame?





A. Frank Gifford
B. Dan Dierdorf
C. John Madden
D. Terry Bradshaw

Not 100% sure on this question, Steven will use his 50:50.

OUT
B. Dan Dierdorf





C. John Madden
OUT

That seems to work for him. He'll say B...

But he won't turn it orange yet. He'll use his Phone-a-Friend and call Tim. (No, not me.) After the fluff, here's the transcript:

Tim: "Not in the..."
Steven: "Not in the Hall of Fame."
Tim: "All righty..." (long pause)
Reege: "8 seconds."
Tim: "John Madden's not in the Hall of Fame."
Steven: "Are you sure?"
Tim: "As an announcer-" (Burp Burp)






Even though it wasn't a ringing endorsement, Steven will go with his friend and pick C...

As his final answer.




And as John Madden would say...




BOOM! He's won $8000!
For $16,000:

9. What NFL franchise has retired #12 as a tribute to their fans, 'the twelfth man'?





A. Seahawks
B. Vikings
C. Chargers
D. Lions

Steven remembers hearing something about this.

He'll go with A...

For his final answer.




And my favorite team is finally the right answer! $16,000!
For a guaranteed $32,000:

10. What player holds the record for the most NFL games rushing over 200 yards?





A. Jim Brown
B. Earl Campbell
C. Barry Sanders
D. O.J. Simpson

The answer isn't coming to him, so he'll have to poll the audience.

A. Jim Brown - 40%
B. Earl Campbell - 10%





C. Barry Sanders - 30%
D. O.J. Simpson - 20%

That's not a good enough spread for Steven, so he'll call it quits.
Steven Plotnick takes home $16,000.

Steven's guess would be C...




And it's a good thing he stopped. D. O.J. Simpson was the correct answer.
TRIVIAL TRIVIA
All 3 contestants on the Millionaire Bowl episode used their 50:50 first, an unwise move under normal circumstances.
Back to the "Who Wants to be a Millionaire?" Fan Page
Back to the Game Show Lair

The following space is blank - don't worry about it.