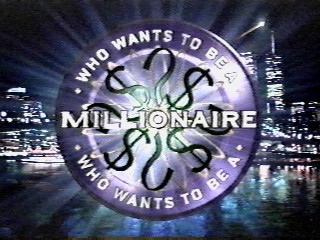 Don Rohan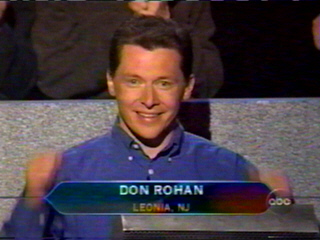 Don was once a finalist in the straight-up game. Here's the question that got him into the hot seat:
Put these NFL teams in the order of the number of Super Bowl appearances, from most to least.

A. Washington Redskins
B. Kansas City Chiefs
C. Dallas Cowboys
D. New Orleans Saints
Correct Order (drag the mouse over the letters): C-A-B-D
Don's winning time: 5.70
Competitors: 9/9
Everyone got it right, but Don was fastest. Let's see if his quickness will result in a lot of money!
For $100:

1. When a quarterback drops back into the area between his tackles, he is said to be in what?





A. Belt
B. Tunnel
C. Pocket
D. Girdle

Don takes C...

And it's right! $100.
For $200:

2. Currently, what color is the penalty flag carried by all NFL officials?





A. Black
B. Gold
C. Red
D. White

Dan chooses B...

Which is correct for $200!
For $300:

3. What is the oldest stadium currently being used for an NFL team's home games?





A. Soldier Field
B. Sun Devil Stadium
C. Pontiac Silverdome
D. Mile High Stadium
Don picks A...

Home of Da Bears! $300.
For $500:

4. Who caught Joe Montana's 1982 playoff game-winning touchdown pass known as 'the Catch'?





A. Jerry Rice
B. Everson Walls
C. Dwight Clark
D. Roger Craig

Don goes with C...

And he's just caught $500!
For a guaranteed $1000:

5. Prior to John Elway, who was the most recent AFC starting quarterback to win a Super Bowl?





A. Terry Bradshaw
B. Jim Plunkett
C. Dan Fouts
D. Boomer Esiason

It took a while before Elway did it - Don guesses B...

He splits the uprights for $1000!

For $2000:

6. Which of the following people was not an announcer on the first 'Monday Night Football' game?





A. Keith Jackson
B. Frank Gifford
C. Howard Cosell
D. Don Meredith

Don isn't too sure about this, so he'll take the 50:50.

A. Keith Jackson
B. Frank Gifford





OUT
OUT

That cements it. Don picks B...

For his final answer.

It's a good one; he's just won $2000!
For $4000:

7. Which of these legendary quarterbacks was not born in western Pennsylvania?





A. Bart Starr
B. Dan Marino
C. Joe Montana
D. Joe Namath

Having just read a book about Vince Lombardi, Don knows it's A...

And that's final.

He got another one! $4000!
For $8000:

8. Which Chicago Bear proclaimed 'I'm no dumb cookie!' during the song 'Super Bowl Shuffle'?





A. Kevin Butler
B. Jim McMahon
C. William Perry
D. Steve McMichael

In one of the most misguided music videos in history...

Don selects C...

Let's turn it orange.

He's absolutely right! $8000!
For $16,000:

9. What player lost his helmet before Super Bowl XXVI, causing him to miss the game's first two plays?





A. Thurman Thomas
B. Jim Kelly
C. Emmitt Smith
D. Michael Irvin

Don knows it, and says it's A...

Which is his final answer.

And Don is on fire! $16,000!
For a guaranteed $32,000:

10. Who is the only member of a losing Super Bowl team to be voted the game's MVP?





A. Jake Scott
B. Tom Matte
C. Ken Anderson
D. Chuck Howley

Don chooses D...

For his final answer.




Don hasn't had too much trouble on most of these questions...




And he didn't here, either! He's won $32,000!!

For $64,000:

11. After more than 22 minutes in overtime, whose field goal ended the longest game in NFL history?





A. George Blanda
B. Raphael Septien
C. Garo Yepremian
D. Jan Stenerud

Citing the fact that it was the Miami Dolphins, Don chooses C...

As his final answer.




It was a long game...




And the field goal that finished it...




Was kicked by...




Garo Yepremian!
Don wins SIXTY-FOUR THOUSAND DOLLARS!!!

For $125,000, or ONE EIGHTH of a MILLION DOLLARS:

12. What team won the first Super Bowl in which instant replay was eligible to be used by the officials?





A. Giants
B. 49ers
C. Bears
D. Redskins

It's his favorite team. A.

He'll make it his final answer.




Well, when in doubt, go with the team you like.




Don did exactly that.




And because he did...




He's won ONE HUNDRED TWENTY-FIVE THOUSAND DOLLARS!!!!

For $250,000, or ONE QUARTER of a MILLION DOLLARS:

13. Which of these colleges sent the most players, who played in at least one game in the '99 season, to the NFL?





A. Michigan
B. Florida State
C. Miami [Fla.]
D. Texas A&M

Nothing comes immediately to mind, so Don will throw this one to the audience.

A. Michigan - 12%
B. Florida State - 64%





C. Miami [Fla.] - 12%
D. Texas A&M - 12%

Even though it's more than a 5:1 margin in the survey, it's not enough to convince Don. He'll use his last Lifeline and call his friend, Larry. After the formalities, here's what we get:

Larry: "That's a tough one, Don."
Don: "I know."
Larry: "Uh... My guess would be Florida State, but that's a guess."
Don: "That's my guess, too, and that's the audience's. Uh... Thank you so much."
Larry: "OK. Good Lu-" (Burp burp)






Despite both the audience and his correspondent agreeing with him, Don will not chance it. He's walking.
Don Rohan resigns with $125,000.

Everybody thought it was B...




And everyone was right! B. Florida State was the answer.
TRIVIAL TRIVIA
Two firsts occurred during Don's game. 1) This was the first time all eligible contetants got a Fastest Finger question right; 2) This was the first time three answers got the same percentage in the audience poll.
Back to the "Who Wants to be a Millionaire?" Fan Page
Back to the Game Show Lair

The following space is blank - don't worry about it.