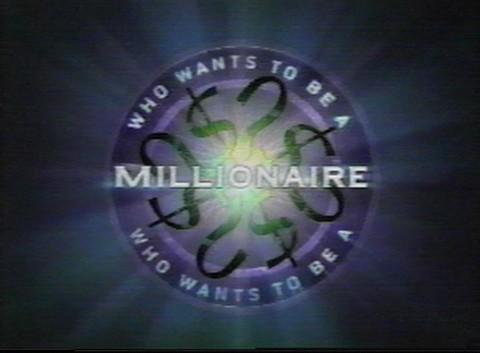 Final Statistics
Well, two weeks of intense quizzing are over. Judging from the ratings, to say that this show was a success would be like saying that Michael Jordan was a pretty good basketball player, the Beatles were kinda popular, or Bob Barker is a passable game show host. Here are the final stats for the first American run of "Who Wants to be a Millionaire?":
Statistics:

NUMBER OF CONTESTANTS:
19
TOTAL NUMBER OF QUESTIONS ASKED*:
203
TOTAL MONEY AWARDED:
$1,433,000
LIFELINES UNUSED:
7
LIFELINE MOST OFTEN USED FIRST:
Ask the Audience (16)
MOST EFFICIENT LIFELINE:
Ask the Audience (17/18)
VICTORS (Million dollar winners):
0
KNOCKOUTS (Games ended by wrong answer):
11
MONEY LOST FROM KNOCKOUTS:
$62,000
BAILOUTS (Games ended voluntarily):
8
HIGHEST LEVEL QUESTION CORRECT:
14 (Michael Shutterly)
LOWEST LEVEL QUESTION WRONG:
1 (Robby Roseman)
FASTEST QUALIFYING TIME:
3.45 (Doug Szafran)
AVERAGE AMOUNT WON:
$75,241
* - Qualifying Questions are not counted.
I'm sure everyone has their favorite moments. Here are my memories from the show:
- Hillary Daw's Phone-a-Friend conversation. "Timmy, it's kind of important..."
- David Honea agonizing over the $32,000 question - and breathing a sigh of relief as he's told he was right.
- Doug Van Gundy egging Reege on when he stalls on the $64,000 verdict. "Don't do this to me, Regis!"
- Doug Van Gundy's laughing fit and emotional reaction to the $125,000 verdict.
- Doug Van Gundy going into conniptions when he wins $250,000.
- Robby Roseman. Wonder where those lucky shorts are now....
- Tom Coletta giving Reege Hell when he stalls on the $8,000 verdict... and Regis' terrific retort.
- Michael Shutterly smiling as wide as the Grand Canyon after winning $500,000.
- Jeff Gardner's free-wheeling attitude, going down swinging on the $16,000 question.
- Doug Foster mulling over the $32,000 question... and his reaction when he found out he was right.
- David Honea's humorous approach to the $250,000 question - the last one to be asked in the series.

So, until November (when hopefully I will be up on stage going for the million), I thank everyone for browsing this page, and here's hoping ABC doesn't sue me for making such a deep look at the show.

Back to the "Who Wants to be a Millionaire?" Fan Page

Back to the Game Show Lair